Henry Hornbostel's Soldiers' and Sailors' Memorial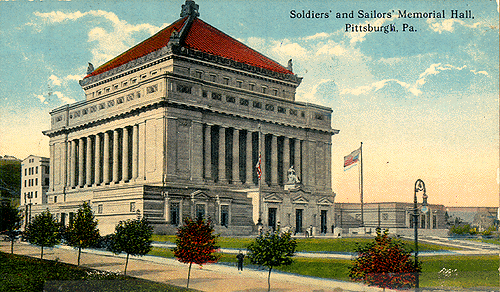 Soldiers' and Sailors, Henry Hornbostel's competition winning design is a real gem. Yet, I believe that, like so many other buildings, maybe all of them, it is not well understood. It gets to some of the classic misunderstandings of Beaux Arts architecture that engage my interests here and elsewhere. 
Henry Hornbostel designed the building as part of a national design competition in 1907. In this case, he competed with a truly national collection of the nation's best architects, including Cass Gilbert, James Gamble Rogers, and Ernest Flagg. 
People tend to interpret the building as a big classical revival pile, whose purpose is to look old. In fact, there is a strong element of that. With its Tuscan columns, this building adheres more closely to principles of classical architecture than many of the other things Hornbostel actually designed. 
Along those lines, it does call directly to the memory of the Mausoleum of Halicarnassus. That building was one of the Seven Wonders of the Ancient World. King Mausolus demanded a death memorial to himself that was so amazing and spectacular that all death memorials afterwards took its name as a means to aggrandize themselves. 
And indeed, Hornbostel's work is a biaxially symmetrical structure of great grandeur, with columns on four sides that comes to a pointed culmination. If you flash images of the two buildings together, they kind of look alike. And indeed, much of the purpose was to be able to say that this recent memorial is a recollection of that most grand of memorials. It's suitable to pay tribute to veterans in such a fashion.
Of course, no reliable images of the Mausoleum of Halicarnassus survive. We know it from literary sources, some of which are fairly detailed. And those describe a building that is significantly different from what Hornbostel wrought. This suggests he had other things in mind than just recreating classical architecture when he proposed his designs. 
If you go through all of the design entries from the original competition, you realize a couple of key things. Most of them have all of the program elements, the different rooms on a single level. This means they are spread out in larger buildings. Also, many of the competition entries have domes or mansard roofs-complex and expensive structures. 
Much of the key to Hornbostel's victory is that he took the performance auditorium and the dance hall and stacked them on top of each other. That compacted the size and expense of the overall structure. Also, the program included space for memorial exhibitions, the glass vitrines that are there today. Most of the competitors put those in their own separate rooms. Hornbostel had the bright idea to make them part of the circulation, the already necessary hallways. This clever multi-purposing was another cost savings.
Speaking of which, the Mausoleum of Halicarnassus, by most literary accounts, had a stepped or ziggurat shaped roof. By contrast, Hornbostel's is pyramidal, and it always has been. It's plenty dramatic, and it is also cheaper. 
The building is not perfect. There was an ongoing struggle to keep expenses in line that necessitated using cheaper stone than originally specified, as County Council records indicate.
From the original design to the actual construction, the building grew substantially in height. Hornbostel had stacked the rooms on top of each other in a clever fashion, but he had not thought of the structure to support such a large span. The structure as-built had to have the equivalent of a railroad bridge inserted between floors as support (though this may be unnecessarily overbuilt. It's up to current structural engineers to say for sure).Still, it's a beloved building that is well used for ceremonies and performances, and it still serves its original purpose of honoring military veterans in monumental and dramatic fashion. 
The building was completed around 1909. Not quite ten years later, at the age of 50, Hornbostel decided to enlist in the U.S. Army to fight in World War I. Could it be that the experience of designing for veterans and wanting to honor their legacy led him to join the armed services at such an advanced age?
Soldiers and Sailors is not simply an historical wedding cake. It is an example of a capable architect bringing a number of clever design features to a prominent civic building in a way that allowed him to win a victory over the best of his contemporaries.
Please reload